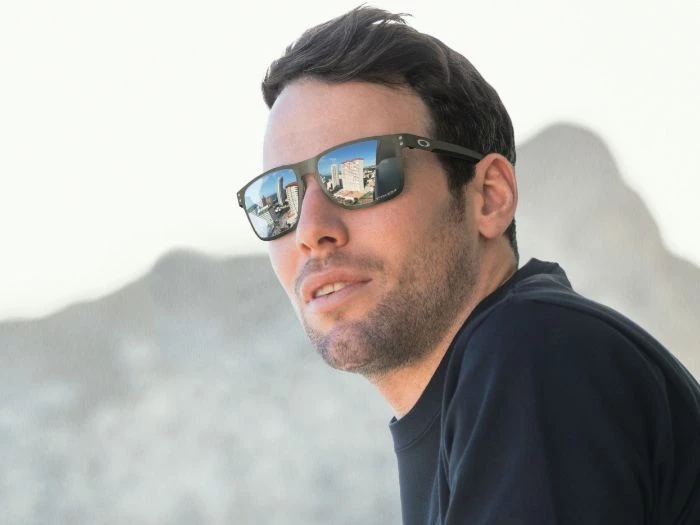 We fix broken Oakley eyewear
Oakley glasses repair is a speciality for the expert team at AlphaOmega. We have high levels of expertise in renovating Oakley sunglasses right across the company's range. We can repair Oakley frames from as little as £20 and can get your mended sunglasses back to you within 48 hours.
AlphaOmega can repair Oakley frames across the range including Oakley Drop Point, Flak, Frogskins, Enduro and Mainlink models. Repairs can include arm replacement, new joints and nose pads, bent or broken bridges and frame realignment.
AlphaOmega can repair flex problems with Juliet nose bridges from just £55 (+ postage) and give the bridge back its original flex. All repairs come with a 12-month unconditional warranty.
Our expert staff specialise in repairs to Oakley Juliet and Penny glasses frames where components have become loose or wobbly with full restoration of the frame's original flex properties. We also offer replacement lenses for Oakley sunglasses.
---
Please use our ENQUIRE ONLINE page to tell us what has happened to your Oakley sunglasses. A member of the team will explain what we can do to help.
---
If you choose to use AlphaOmega's sunglasses repair service UK, you get a unique tracking code that will enable you to log onto our website at any time and check the status of your repair.
Along with expert repairs, low prices and our quick turnaround times you will quickly see why AlphaOmega has been the number one Oakley glasses repair specialist for more than 20 years.
*Please contact us for spring hinge repairs as some models may need specific alterations.
About Oakley sunglasses
Oakley makes high-end sunglasses, football visors and ski goggles for the action sports market and, in recent years, have expanded into stylish prescription glasses, hockey eyewear and a vast array of quality accessories.  Oakley came from humble beginnings in a garage for a zero initial investment when Jim Jannard, began by making specialist motorsport grips. Fut fame and fortune followed when the famous Oakley goggles were born.
Since then, the brand has notched up nearly 600 worldwide patents. The brand is noted for its high definition optics, which claim perfect clarity and 100% protection from harmful UV rays. Very popular with sports enthusiasts, all Oakley lenses are impact-resistant and set in three-point-fit frames that keep them in precise optical alignment.
The lenses also boast unique hydrophobic coatings to keep them resistant to moisture as well as to dirt, dust and oils. Oakley designers made their mark by adopting unconventional ideas and building original designs from scratch. The result is a brand that is famed for delivering the new and unexpected.
---
We repair all glasses and sunglasses produced by Oakley with experience of all the popular models of sunglasses including Chainlink, Conductor, Crankshaft Eb=nduro, Fives Square, Frogskins, Flak, Holbrook, Jawbreaker, Jupiter, Radar, Sliver, Square Wire, Tailpin, Taper, Turbine, TwoFace and Valve. We also fix all brands of broken spectacles, including other luxury eyewear manufacturers such as Ray-Ban, D&G, Prada, Gucci and Armani.