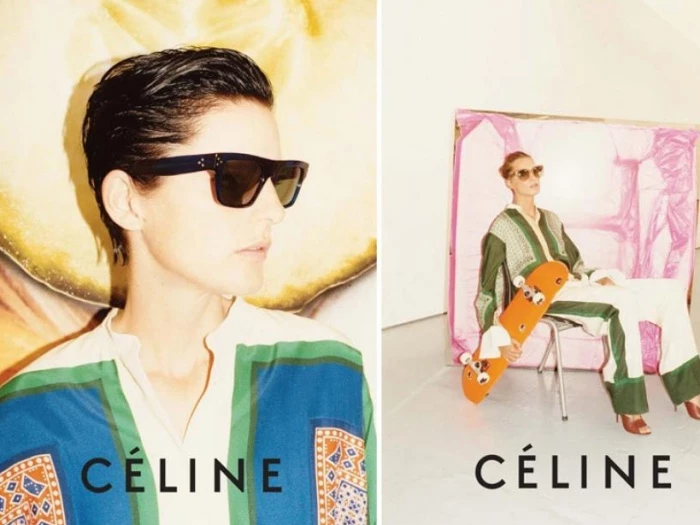 We fix broken Céline eyewear
Céline sunglasses are one of the rising stars of the eyewear fashion world. The Paris-based fashion house is one of the most coveted labels, and Celine sunglasses embrace the brand that boasts high sophistication with an understated touch of luxury.
Repair experts at AlphaOmega Glasses Repair have long and extensive experience of working on damaged Céline sunglasses models and have the skills and materials to restore damaged frames and lenses across the whole Céline product range.
---
If you have a pair of damaged or worn Céline glasses you need only click through to our
ENQUIRE ONLINE
page to get a free quote on full refurbishment. Tell us what needs fixing, and we promise to do our very best to get them back to you in days completely mended and looking as good as the day you bought them.
---
The experienced and efficient staff in our
repair workshops
are experts in replacing and mending damaged frames, arms, temples, nose pads, bridges and lenses.
Supplied with the latest equipment, AlphaOmega staff take great pride in their ability to repair glasses with some of the fastest turnaround times in the industry.
Many repairs are carried out on the same day as the broken frames arrive in our workshops. We have a special delivery arrangement with the Post Office that helps ensure your Celine glasses are returned to you as quickly as possible.
AlphaOmega clients also get a unique tracking code which allows them to check the progress of their repair from start to finish. Not many clients use the feature as their glasses are usually back with them before they have time to miss them.
We may be quick with repairs, but we don't stint on standards. We are so confident in the quality of our service that we offer an unconditional 12-month guarantee on all glasses and spectacle repairs as well as replacement lenses.
About Céline sunglasses
The French luxury house Céline launched in 1945 as a children's shoe shop but quickly expanded into women's fashion wear and accessories. The ultimate in French elegance. Céline is a fashion leader that blends style with charm, and its seasonal collections are immediately recognisable.
( Celine sunglasses ) fit the brand image perfectly with clean, sharp lines, a moderate colour palette and superb craftsmanship on the very highest quality. They say that wearing a pair of Celine sunglasses is like wearing a diamond necklace. The smooth finish and flirtatious lines appeal to the modern woman, and the classic models of the sunglasses range have elevated them one of the most sought-after brands today, a magnet for the sophisticated women looking for bold but understated luxury.
Céline glasses come in many shapes from rectangular to oval, but their standout feature is the thick acetate frame that looks bold without sacrificing lightness and comfort.
---
AlphaOmega Frame Repairs has extensive experience in repairing, restoring and refurbishing all models of Celine sunglasses, and all the work comes with a full, no quibble 12-month guarantee.
For a
FREE CELINE GLASSES REPAIR QUOTE
use our
ENQUIRE ONLINE
service.
---