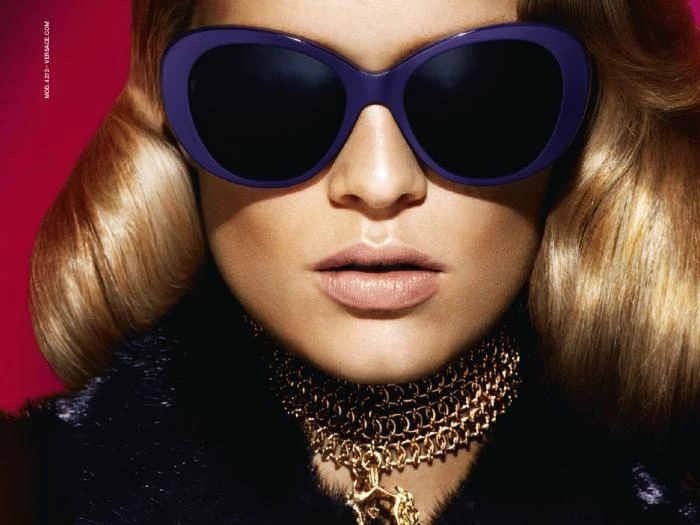 We mend Versace eyewear
AlphaOmega Frame Repairs are the experts in cleaning and mending luxury eyewear brands such as Versace. Our team of specialists can restore all Versace sunglasses right across the full Versace range.
Your Versace sunglasses repair is as close as your nearest post box. We handle the vast majority of repairs online, and our fast turnaround policy means you can wear your fully repaired Versace glasses within 48 hours of posting them to our UK repair centre.
Expert AlphaOmega staff can not only mend damaged Versace frames but can also replace your damaged lenses, weld broken bridges, straighten arms and more using the latest precision glasses repair equipment.
Your Versace sunglasses will be expensive, but a repair need not cost the earth. We pride ourselves on our modest prices, and we appreciate you want your Versace sunglasses returned as quickly as possible and in first-class condition.
We do our best to achieve 100% customer satisfaction, so check out the unsolicited testimonials here.
---
All you do is go to the
ENQUIRE ONLINE
page to tell us what repairs your broken Versace sunglasses need, and we will get back to you within 24 hours to tell you what we can do to help.
---
If you choose AlphaOmega to carry out your sunglasses repair, you will receive a unique tracking code to use on our website at any time to check on the status of your Versace glasses repair.
AlphaOmega also offers an unconditional guarantee on all Versace glasses or sunglasses repaired in our workshops.
Combine this with great prices and our fast turnaround times to see why AlphaOmega has been the number one UK Versace glasses frame repair specialist for over 20 years.
About Versace sunglasses
Versace is a world-renowned Italian luxury fashion and lifestyle brand for both men and women, distinguished by its innovative outlook. Versace produces upmarket ready-to-wear clothes and accessories, and the brand is noted for flashy motifs and bright colours.
Versace sunglasses are part of the Versace Collection arm of the company and stand apart from competing eyewear brands. They produce a wide range of models, but most tend to have softer edges and angles to the frames and are desirable for their simple elegance. Versace frames also tend to be smaller and more rounded than competitor frames.
Many Versace eyewear frames are constructed of metal or high-quality composite plastic. Most have thin metal frames in a solid colour, and, although there are variations on this theme, they are few and far between. Versace frames use the highest quality materials, including titanium which, although one of the best metals for eyewear frames, can be challenging to repair without specialist equipment.
Versace produces stylish eyewear lines with wraparound, round, square and rectangular options. Bold colours add flair and personality, while classic models feature more traditional colours like black and brown. The use of high-quality, lightweight materials makes Versace glasses very comfortable to wear, and lenses provide 100% protection against UV light. Some models boast shatter-resistant plastic.
Genuine Versace sunglasses don't come cheap and are aimed at the luxury end of the market and at those customers who put a high price on the image they want to project. Original Versace frames feature the Versace trademark logo head of Medusa, a Greek mythological figure, on either the outside or inside edge of the frame. Beware of heavily discounted Versace sunglasses sold online – they are probably faked.
The range of attractive Versace sunglasses fixed by AlphaOmega includes titanium and rimless glasses. All the frames that pass through our workshops are expertly cleaned and polished after repair. We fix all Versace sunglasses models including #Frenergy, #VFierce, Block Pilot, Frame Pilot, Greca Tetris, Medusa, Medusina, Round Tribe, Signature, V-Fluo, V-Matrix and V-Wire.
---
For a
FREE VERSACE GLASSES REPAIR QUOTE
, use our
ENQUIRE ONLINE
service.
---