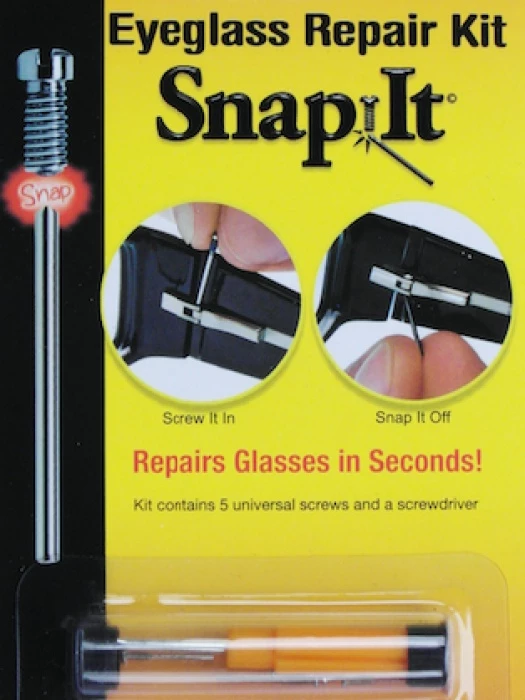 AlphaOmega Frame Repairs introduces the Snapit Screw, an American invention that is about to revolutionise the world of spectacle repair.
Tedeschi's innovative and time-saving screws take the pain out of eyeglass repair and are paving the way in the optical repairs industry.
Since OptiSource International introduced the SnapIt screw more than five million screws have been sold. SnapIt' now has 26 hinge and eyewear designs on the market and plans are in place to expand to around 35 screw sizes that will fit every type of eyewear frame.
To purchase a Snapit glasses repair kit, priced at only £5 each, please email us detailing the quantity you require: info@alphaomega-glasses-repair.co.uk.
Each kit contains five screws and a screwdriver which fit inside a plastic tube so you can easily carry them about. The five screws come in different lengths and thicknesses and so will fit just about any pair of spectacles or sunglasses.
Each repair kit screw has a long, smooth lower body that drops into the hinge and, when screwed in place, you simply snap off the bit that's not needed.
You don't need any other special tools, just the screwdriver and the Snapit screw which comes fully threaded and can be inserted in the top or bottom of the broken hinge.