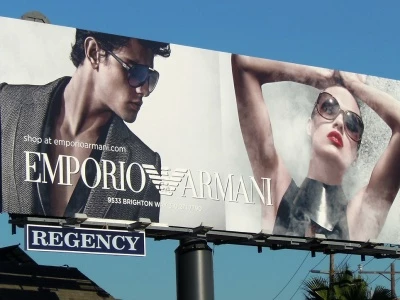 We fix broken Armani eyewear
Giorgio Armani is justly famous for its clean European design of luxury sunglasses. While Italian sunglasses have always been renowned for impeccable taste and as a fashion statement for those who appreciate the more beautiful things in life, the Armani range of sunglasses has something for everyone.
Emporio Armani, for example, is the more open line from the Armani house, and the brand's collections boast an array of contrasting elements and styles. Whatever the model, it just about all amounts to one thing – timeless and understated elegance. Frames from Armani are sported by some of the world's most noted celebrities including film actor Ben Affleck and U2 frontman Bono.
Armani is best known for designer men's clothing, being formed back in 1974 by the Italian stylist Giorgio Armani. He is said to be one of the most successful fashion artists to come out of Italy, and Armani sunglasses have become one of the most sought-after from designer eyewear manufacturers.
---
For an
ARMANI REPAIR QUOTE
use our
ENQUIRE ONLINE
service. Tell us what needs fixing and we will tell you what we can do to help.
---
Armani glasses repair
AlphaOmega has a great deal of experience and expertise when it comes to Armani sunglasses repair, especially the renovation of Armani glasses frames.
The experts at AlphaOmega can not only mend damaged glasses frames but can also fix your broken lenses, bridges, arms and more using the latest precision equipment.
And it won't cost a small fortune either. We pride ourselves on our modest prices and fast turnaround. For more on the cost of Armani sunglasses repairs see our glasses repair page.
Armani repairs guarantee
AlphaOmega also offers an unconditional 12-month guarantee on all Armani glasses or sunglasses repaired in our specialised repair workshops. Combine this with great prices and our fast turnaround times to see why AlphaOmega has been the number one UK Armani glasses frame repair specialist for more than 20 years.
Tracking your Armani repair
If you choose AlphaOmega to carry out your sunglasses repair, you will get a unique tracking code to use on our website at any time.
Log in with your password and use the tracker to check on the status of your Armani repair at any time, day or night.
But honestly, you probably won't even need it. Many of our customers get their specs back before they have found time to log on!
Armarni repairs across the range
The range of attractive Giorgio Armani sunglasses frames fixed by AlphaOmega includes Armani titanium and rimless glasses and all models of Giorgio, Emporio and Armani Exchange.
All the frames that pass through our workshops are expertly cleaned and polished after repair.
We also fix all brands of broken spectacles and sunglasses, including models from manufacturers such as Ray-Ban, Oakley, Oliver Peoples and Prada.