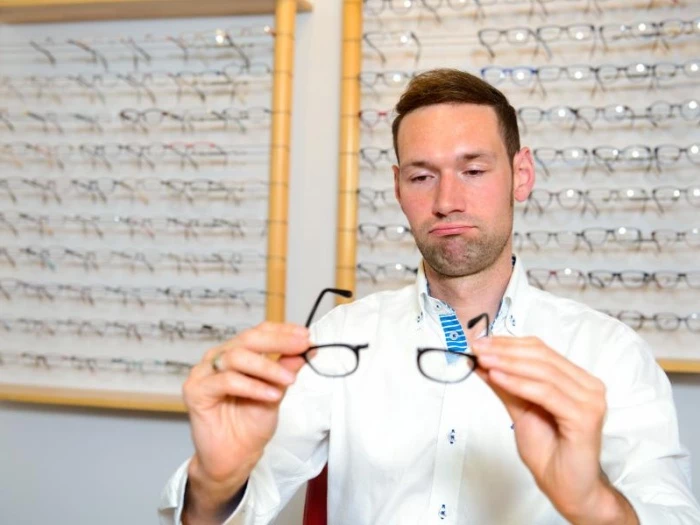 AlphaOmega offers fast, effective and professional glasses repairs, services and replacements for customers in Brighton and the south-east.
Brighton customers are often told their favourite glasses or sunglasses are beyond repair and that the only option is to buy a replacement pair at a considerable cost.
But in 99% of these cases, our skilled experts can successfully carry our reliable repairs and fix replacement parts to your glasses frames, whatever the brand or fault, for a much more affordable price.
AlphaOmega's specialist technicians can tackle glasses repairs for all types of material including rimless, half-rim, titanium, aluminium, stainless steel and even precious metals.
Authentic replacement parts for Brighton glasses
All models and makes of glasses can have frames renovated and looking like new. We carry out spectacle repairs on many popular brands such as Armani, Dolce & Gabbana, Dior, Gucci, Oakley, Police, Prada and Ray-Ban.
As an authorised dealer for designer label glasses, we source original branded replacement parts direct from the manufacturer to ensure 100% authentic replacements.
Glasses repair services in Brighton include:
Replacing broken, bent or damaged arms.
Repairing spring joint mechanisms.
Refurbishing snapped frames.
Micro soldering or spot welding metal.
Laser welding of aluminium and titanium.
Replacing damaged lenses.
Adjusting or replacing bridges.
Fitting new nose pads.
Removal and replacement of damaged screws.
Cleaning and polishing.
Reshaping and balancing bent frames and arms.
Get a free quote for frame repairs in Brighton using our no-obligation online enquiry form. Simply fill out the form on this page with your contact details and glasses problem and a specialist will contact you by email within hours.
Once we receive your glasses at our workshops, you get a no obligation final quote for the repair. The final quote may differ from the provisional quote, but it is often the same or even lower.
You confirm the final quoted repair price or, if you choose not to use AlphaOmega, we will return your glasses, free of charge, and in their original condition.
Speedy glasses repairs for Brighton
By providing Brighton glasses repair services via express postal delivery, the specialists can keep overhead costs low, making their service more affordable for you the customer.
Many of our Brighton customers also choose our custom replacement parts which are usually much cheaper and are of the highest quality, sourced from international manufacturers.
Our special arrangement with the Post Office ensures you are wearing your fixed sunglasses or spectacles as soon possible, usually within a few days. Customers find our great prices and fast turnaround times a real bonus.
It has helped to make AlphaOmega the number one UK glasses repair specialist for more than 20 years.
If you decide to post your damaged glasses to AlphaOmega you will receive a unique tracking code to follow the progress of the spectacle renovation from start to finish.
We provide glasses repairs for Brighton and all surrounding areas such as Hove, Worthing, Littlehampton and Shoreham-by-Sea. We also repair broken glasses sent to us from Belfast, Birmingham, Bristol, Cardiff, Dublin, Edinburgh, Glasgow, Leeds, Liverpool, London, Manchester, Newcastle, Sheffield.
AlphaOmega's value service does not mean that we sell short on quality. We always use genuine, high-quality replacement parts whenever we can and are confident that our fast, quality repairs will leave you very satisfied. See our Feedback pages for unsolicited emails from many of our customers.
We are proud of the standard of our glasses repair performance and offer an unconditional 12-month guarantee on all glasses and spectacle repairs carried out by AlphaOmega.